Xen FileSystem Performance Test
Test der Dateisystemsperformance des XenServer direkt auf der Hardware (Plain) und der unterschied zwischen EXT und LVM.
How To Change the Default Storage Repository to EXT3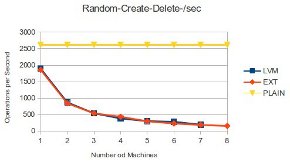 Hardware

IBM Blade HS21
2x Intel(R) Xeon(R) CPU E5540  @ 2.53GHz
16 GB RAM
LSI SAS 1064 with 2 SAS Disc with Raid 1

Software

XenServer 5.6 SP2

Virtual Machines

Ubuntu VMs (64-Bit) with latest XenTools installed (1 CPU per VM and 1024 MB RAM)

Testsoftware

bonnie++

Der Test
Ich habe jeden Test 3 mal durchgeführt und dabei nur die letzten beiden Werte gezählt. Bei 3 virtuellen Maschinen habe ich bonnie++ 3 mal auf jeder virtuellen Maschine zur gleichen Zeit laufen lassen. Dabei die letzten beiden Ergebnisse gespeichert (values Tab in der Tabelle). Diese 6 Werte habe ich summiert und anschließend durch 6 geteilt (summary Tab in der Tabelle).
Die fertige OpenOffice Tabelle runterladen: [download#13#size#nohits]
Bemerkung: Die Daten liefern immer die Werte für eine einzelne virtuelle Maschine. So zeigen die Grafen der CPU Auslastung (letzter Tab in der Tabelle) die CPU Usage EINER virtuellen Maschine. (Multipliziere diesen Wert mit der Anzahl der virtuellen Maschinen und die Differenz zu PLAIN ist der Virtualisierungsoverhead).
Mein Ergebnis ist, dass es keine Unterschiede bei der Perfomance in der Verwendung von LVM oder EXT als Dateisystem auf dem Storage Repository des XenServers gibt. Allerdings bietet EXT die Möglichkeit mehr Speicher an seine virtuellen Maschinen zu vergeben, als physikalisch im Server vorhanden sind.
Beispiel: