Install Ubuntu on DELL Latitude ST Tablet
BEMERKUNG: Die hier gezeigte Lösung ist nicht besonders stabil und aktuell nur ein Test. Nachmachen auf eigene Gefahr !
Achtung
Die Hardwarebeschleunigung der GMA 600 Grafikkarte funktioniert aktuell noch nicht.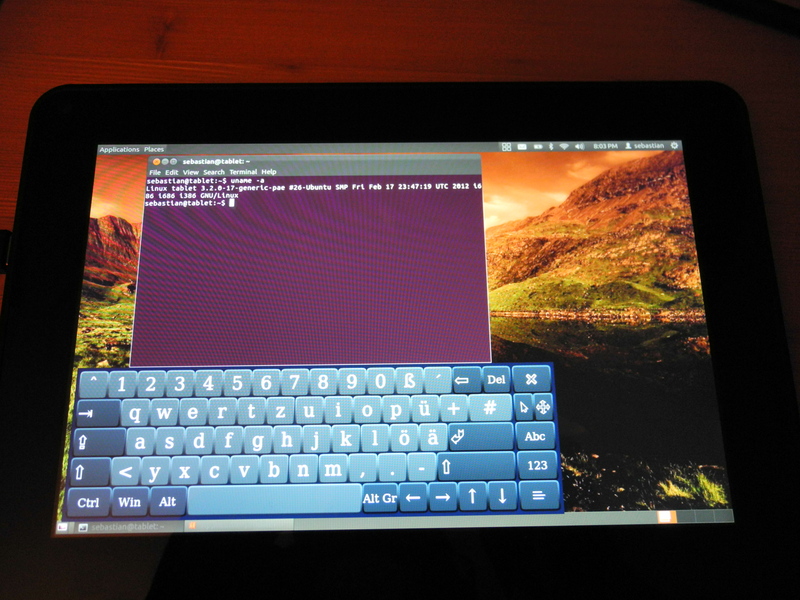 1.
Installation
Man braucht einen USB-Hub, USB-Keyboard und einen USB-Stick.
1.1
Ubuntu herrunterladen
Zuerst läd man sich das neueste Ubuntu herrunter (aktuell ist das Ubuntu 12.04 Alpha 2).
Wähle 'precise-desktop-i386.iso' und lade dieses ISO herrunter.
Bemerkung: Man braucht Ubuntu 12.04 weil die Psb_gfx Treiber in dieser Version bereits integriert sind.
1.2
Ubuntu USB-Installationsstick erstellen
Nun erstellt man aus diesem ISO einen USB-Installer dazu folgt man am besten dieser Anleitung: USB Installer erstellen oder dieser: USB Creator
1.3
Installieren
Verbindet den USB-Hub mit dem Tablet sowie das Keyboard und den USB-Installer.
Beim booten mit Hilfe von "F12" vom USB-Stick booten.
Nun kann man Ubuntu installieren wie man will. (Oder man verwendet das Live-System)
2.
Bilder
3.
Bekannte Probleme
3.1
WLAN funktioniert nicht
Im Tablet befindet sich eine 'Atheros Wireless WLAN BT 1535C Half MiniCard' WLAN-Karte.
Der Chip ist ein "Atheros AR6x02/AR6003 NWF WLAN".
http://wireless.kernel.org/en/users/Drivers/ath6kl
Mit Danke an Patrick und kvalo, habe ich die Karte zum laufen gebracht;

rmmod sdhci_pci
rmmod sdhci
modprobe sdhci debug_quirks=0x2
modprobe sdhci_pci

Um dies jedes mal beim starten zu aktivieren die Datei "/etc/default/grub" bearbeiten und "GRUB_CMDLINE_LINUX_DEFAULT" ändern:

GRUB_CMDLINE_LINUX_DEFAULT="quiet splash sdhci.debug_quirks=0x20"

Und folgenden Befehl ausführen:

update-grub

3.2
X-Server funktioniert nicht richtig
Versuche folgendes:

modprobe psb_gfx
/etc/init.d/lightdm restart

4. Links:
Hardware Support Components Video Cards Poulsbo
Get the Best Performace from the GMA 500
GMA500 Ubuntuusers
GMA500 psb_gfx
Dell Latitude ST
Ubuntu Daily Build
Linux Wireless ath6kl Driver
Schickt mir doch bitte eine kurze Antwort wie es auf eurem Tablet funktioniert.
Install Foswiki on Ubuntu with Nginx Racktables custom report