Two custom reports for Racktables to list physical servers and virtual machines.Zwei Custom Reports für Racktables um physikalische und virtuelle Server aufzulisten.
Just download it here:Download hier: [download#15#size#nohits]
New version available !! Klick here.Neue Version verfügbar !! Bitte hier klicken.
Move folder "extensions" into the racktables "wwwroot" folder and create or modify "local.php" in the "inc" folder with the following content:Verschiebe den Ordner "extensions" in das "wwwroot" Verzeichnis von racktables und ändere oder erstelle die Datei "local.php" im Verzeichnis "inc" mit folgendem Inhalt:

# Load server report
require_once "extensions/reports/server-report.php";

# Load virtual machine report
require_once "extensions/reports/vm-report.php";

Login into racktables and go to "Reports".Nun in die Racktables Webseite einloggen und "Reports" aufrufen.
Now you find "Server" and "Virtual machines" in the report menu.Man findet nun zwei neue Reiter "Server" und "Virtual machines" im Menü.
Screenshots: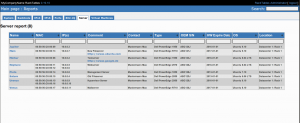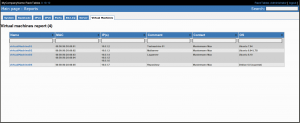 Note: Sort multiple columns simultaneously by holding down the shift key and clicking a second, third or even fourth column header!Bemerkung: Man kann mehrere Spalten gleichzeitig sortieren durch das gedrückthalten von Shift wärend man auf weitere Spalten in der Kopfzeile klickt!