I had a lot of problems with the new webinterface of VMWare Server 2. The interface is very unstable and not very comfortable for the VMWare configuration. I need an alternative for the browser application.

The new VMWare Server 2 is very simular to the ESXi or ESX Server from VMWare so you can use the VMWare Infrastructure Client of this products to manage the VMWare Server 2.

But you can't download VMWare Infrastructure Client from the VMWare page, you have to download the free ESXi Server together with the VMWare Infrastructure Client and download the Infrastructure Client from the machine where you installed the ESXi server. (If you know a better way to get the VMWare Infrastructure Client send me a message or post a comment below.)

Now you can connect to your VMWare Server 2 with the VMWare Infrastructure Client like connecting it to an ESXi or ESX. (Add the port 8333 to the servername like on the picture below.)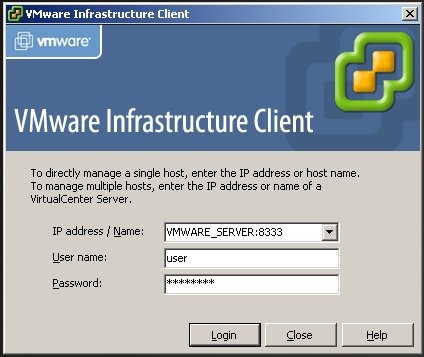 I'm sorry to say that VMWare Infrastructure Client don't run on Ubuntu Linux. Here you find a small howto, but this will not work with an encrypted connection to the server. Without this encryption you can't use it in an productive environment.
Update:

VMware relased a new version 4 of the ESXi. The VMWare infrastructure client is replaced by VMWare vSphere Client. You can download the new client direct from http://www.vmware.com/products/esxi. There a no significant changes in the new client, it works with the free VMWare server like the old client.