NOTE: It's all testing and not stable! Try at your own risk!
Attention:Achtung
The GMA600 graphic hardware acceleration is not working !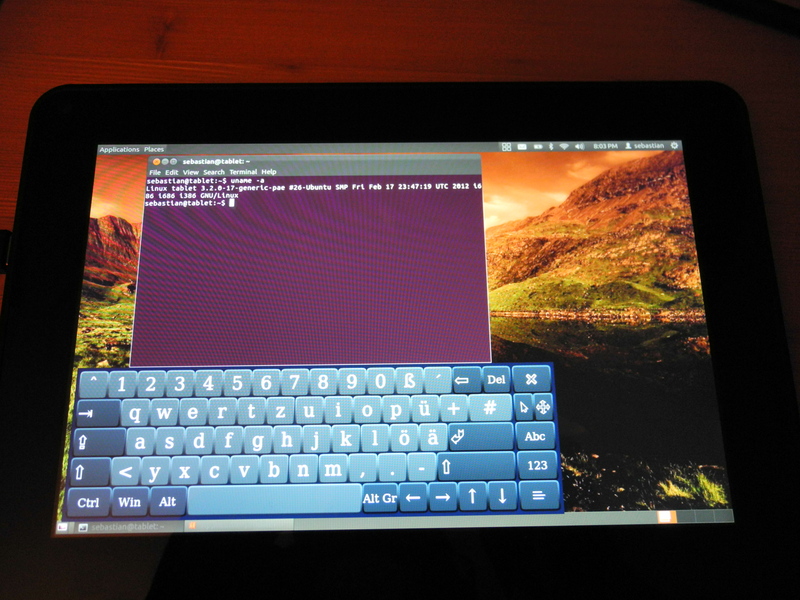 1.
Install
Installation
You need USB-Hub, USB-Keyboard and an USB-Stick.
1.1
Download Ubuntu
Ubuntu herrunterladen
First download the latest Ubuntu release (currently Ubuntu 12.04 Alpha 2)
Download Daily BuildDaily Build herrunterladen
Choose 'precise-desktop-i386.iso' and download this ISO.
Note: You need Ubuntu 12.04, because the Psb_gfx drivers are already integrated in this version.
1.2
Create Ubuntu USB-Installer
Create an bootable USB-Installer with this ISO. Create USB Installer HowTo or this: USB Creator.
1.3
Start install
Connect USB-Hub to your tablet and the USB-Keyboard with the USB-Installer.
Now boot and press "F12" and boot from the USB-Stick.
Install Ubuntu as you like (or use the live system).
2.
Images
3.
Known problems
3.1
WLAN not working
It is an 'Atheros Wireless WLAN BT 1535C Half MiniCard'.
The chip of this WLAN card is: "Atheros AR6x02/AR6003 NWF WLAN".
http://wireless.kernel.org/en/users/Drivers/ath6kl
Thanks to Patrick and kvalo i get the card to work:
rmmod sdhci_pci
rmmod sdhci
modprobe sdhci debug_quirks=0x2
modprobe sdhci_pci

To enable it on startup edit "/etc/default/grub" and change "GRUB_CMDLINE_LINUX_DEFAULT" to:
GRUB_CMDLINE_LINUX_DEFAULT="quiet splash sdhci.debug_quirks=0x20"

And run:
update-grub

3.2
X Server not working
Try:
modprobe psb_gfx
/etc/init.d/lightdm restart

4. Links:
Hardware Support Components Video Cards Poulsbo
Get the Best Performace from the GMA 500
GMA500 Ubuntuusers
GMA500 psb_gfx
Dell Latitude ST
Ubuntu Daily Build
Linux Wireless ath6kl Driver
Please send me response how it works with your tablet.