I have some recorded GPX Tracks from my Garmin Oregon GPS device. To display and modify this files on my Ubuntu Laptop i found Viking.
Installation
Very easy just type:

sudo apt-get install viking

With an OpenStreetMap Map Layer it looks like this: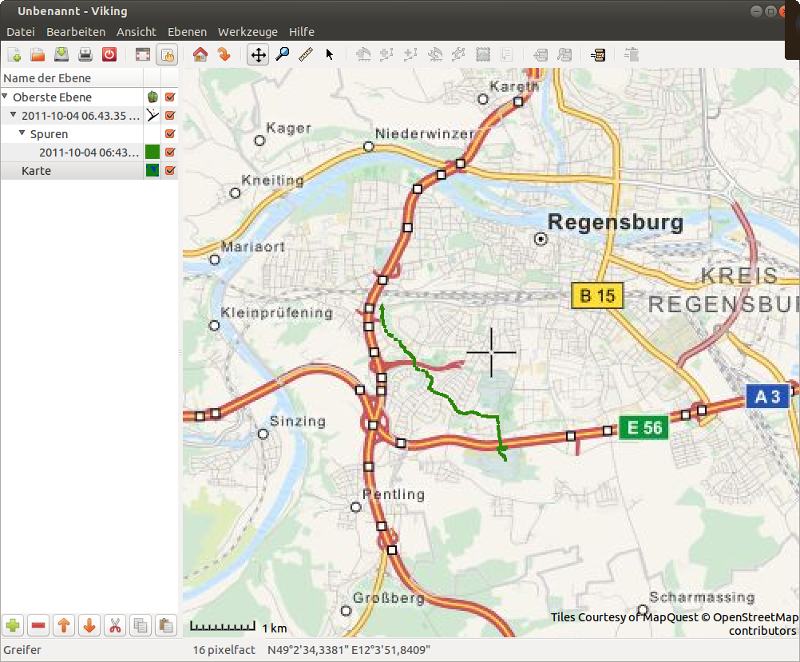 Additional Maps
I had some GPX Tracks from my fishing trips in Norway. To add the free Norway Maps to Viking you have to edit vikings "maps.xml":

sudo vim /usr/share/viking/maps.xml

and add the followings lines before the "</objects>"-Tag at the end of the document:

   <object class="VikSlippyMapSource">
     <property name="label">Statkart topo raster</property>
     <property name="hostname">opencache.statkart.no</property>
     <property name="url">/gatekeeper/gk/gk.open_gmaps?layers=toporaster2&amp;zoom=%d&amp;x=%d&amp;y=%d</property>
     <property name="copyright">© Kartverket</property>
     <property name="license">Kartverket Terms of Use, creative commons by 3.0 no</property>
     <property name="license-url">http://statkart.no/Kart/Kartverksted/Lisens/</property>
     <property name="id">4700</property>
   </object>
   <object class="VikSlippyMapSource">
     <property name="label">Statkart topo</property>
     <property name="hostname">opencache.statkart.no</property>
     <property name="url">/gatekeeper/gk/gk.open_gmaps?layers=topo2&amp;zoom=%d&amp;x=%d&amp;y=%d</property>
     <property name="copyright">© Kartverket</property>
     <property name="license">Kartverket Terms of Use, creative commons by 3.0 no</property>
     <property name="license-url">http://statkart.no/Kart/Kartverksted/Lisens/</property>
     <property name="id">4701</property>
   </object>
   <object class="VikSlippyMapSource">
     <property name="label">Statkart sjøkart</property>
     <property name="hostname">opencache.statkart.no</property>
     <property name="url">/gatekeeper/gk/gk.open_gmaps?layers=sjo_hovedkart2&amp;zoom=%d&amp;x=%d&amp;y=%d</property>
     <property name="copyright">© Kartverket</property>
     <property name="license">Kartverket Terms of Use, creative commons by 3.0 no</property>
     <property name="license-url">http://statkart.no/Kart/Kartverksted/Lisens/</property>
     <property name="id">4702</property>
   </object>

Make sure you use "&" in the URL!
Now restart Viking and select the "Skatkart" maps. A Track with the "Statkart sjøkart" looks like this: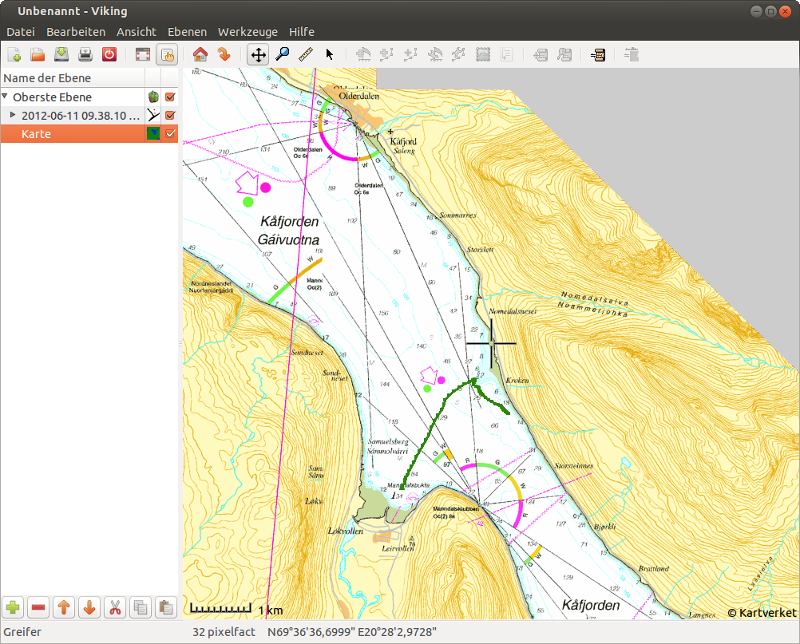 You find a lot of other additional maps on the viking maps wiki page. But don't forget to replace the simple &-Sign with "&" ! This is sometimes wrong in the object definition on the viking page !
Links
* http://wiki.ubuntuusers.de/Viking
* http://sourceforge.net/projects/viking/
* http://sourceforge.net/apps/mediawiki/viking/index.php?title=Maps